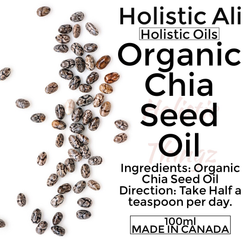 Organic Chia Seed Oil 100ml
Ingredients: Virgin Organic Chia Seed Oil

Nothing else! No fillers! Non-GMO!
Vegan
1-2 months supply
Made in Canada
Virgin Organic Chia Seed Oil

, a natural oil cold-pressed extracted from organic chia seeds (Salvia hispanica). This unrefined Chia Seed Oil is filtered and has a bright, golden-yellow color and characteristic aroma and flavor. Commonly referred to as a superfood, virgin organic chia seed oil is a popular alternative to fish oil as a source of essential fatty acids. There are many different species of chia, but Salvia hispanica is the only one known to contain such high levels of omega-3 fatty acids.

Virgin organic chia seed oil is an especially great option for vegetarians and vegans to obtain omega-3 fatty acids from a botanical source. It has a 3:1 ratio of omega-3 to omega-6 fatty acids and has become a popular supplement due to its naturally high level of alpha-Linolenic acid (ALA). This essential fatty acid cannot be produced by the body and must be obtained through the diet. Virgin organic chia seed oil is widely used in the food industry as a cooking oil and is commonly found in various salad dressings and marinades. In the cosmetic industry, chia seed oil is formulated in topical body creams and lotions to treat dry skin and promote healthier hair.
Please direct all questions or concerns to our amazing customer service team at Info@holisticthingz.com.
Please allow 48 hours for a reply.