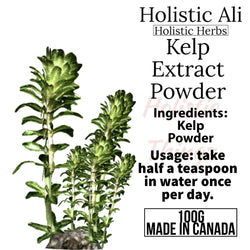 Kelp Powder is an excellent source of natural iodine, zinc, protein, calcium, and other essential vitamins and minerals. This 100g pack is the perfect way to add healthy nutrients to your diet. Enjoy Kelp Powder's distinct taste, and benefit from its numerous health benefits.
Ingredients: Kelp Extract Powder 10:1 100g
Nothing else! No fillers! Non-GMO!
Vegan
1-2 months supply
Made in Canada
Please direct all questions or concerns to our amazing customer service team at Info@holisticthingz.com.
Please allow 48 hours for a reply.