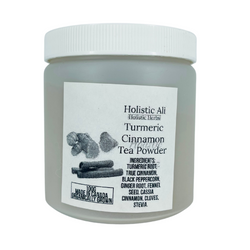 Turmeric and Cinnamon Tea Powder 100g
Turmeric and Cinnamon Tea Powder is traditionally used in herbal medicine and it may help reduce inflammation, boost immune function, and may help with general digestive health. 
Ingredients: turmeric root, true cinnamon, black peppercorn, ginger root, fennel seed, cassia cinnamon, cloves, stevia 
Please direct all questions or concerns to our amazing customer service team at Info@holisticthingz.com.
Please allow 48 hours for a reply.