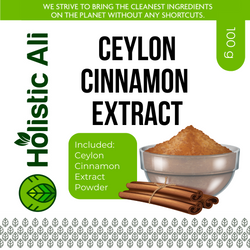 Ceylon Cinnamon Extract Powder 100g
Delicious and fragrant, Ceylon Cinnamon Extract Powder has a variety of benefits, which includes maintaining healthy blood sugar levels. Ceylon Cinnamon Extract provides the beneficial compounds found in cinnamon without the added sugars or calories. It is enriched with powerful anti-oxidants, helping to support good health and protect against oxidative stress. A single serving provides over 100% of the recommended daily allowance of valuable vitamins and minerals. Add it to your favorite dishes for a flavorful and healthy meal. 
Ingredients: Ceylon Cinnamon Extract Powder
Nothing else! No fillers! Non-GMO!
Vegan
1-2 months supply
Made in Canada
Please direct all questions or concerns to our amazing customer service team at Info@holisticthingz.com.
Please allow 48 hours for a reply.