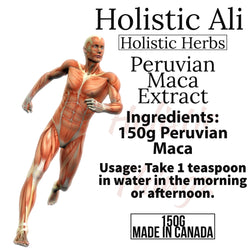 Peruvian Maca Root Blend Powder 4:1 100g
Get four times the benefits of Maca Root with our potent blend of Peruvian Maca Root Powder. Perfect for a nutritional boost, Peruvian Maca Root is packed with vitamins, minerals, and amino acids to support physical activity and promote a healthy lifestyle. Enjoy the ultimate nutritional support in one dose!
Ingredients: Peruvian Maca Root Powder 100g 
Nothing else! No fillers! Non-GMO!
Vegan
1-2 months supply
Made in Canada
Please direct all questions or concerns to our amazing customer service team at Info@holisticthingz.com.
Please allow 48 hours for a reply.