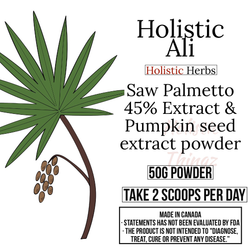 Saw Palmetto extract 45% extract & Pumpkin seed 50g
Saw Palmetto is traditionally used for urinary symptoms associated with an enlarged prostate gland (also called benign prostatic hyperplasia or BPH), as well as for chronic pelvic pain, migraine, hair loss, and other conditions.

Ingredients: Saw Palmetto & pumpkin seed blend
Nothing else! No fillers! Non-GMO!
Vegan
1-2 months supply
Made in Canada
Please direct all questions or concerns to our amazing customer service team at Info@holisticthingz.com.
Please allow 48 hours for a reply.