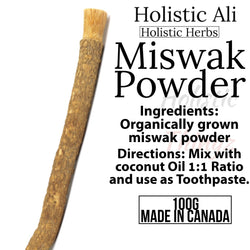 High Quality Natural 10:1 Miswak tooth Powder + Free Toothbrush 100g
Our High Quality Natural 10:1 Miswak Tooth Powder is made from an extract of the miswak tree, a traditional source of oral hygiene in many cultures. This tooth powder contains 10 times more active ingredient than conventional miswak powder, offering an effective formula for a deep, thorough clean. Plus, with every purchase you get a free toothbrush for a complete brushing experience.
Ingredients: 10:1 Miswak EXTRACT Tooth Powder + FREE Bamboo ToothBrush 100g
Nothing else! No fillers! Non-GMO!
Vegan
1-2 months supply
Made in Canada
Please direct all questions or concerns to our amazing customer service team at Info@holisticthingz.com.
Please allow 48 hours for a reply.