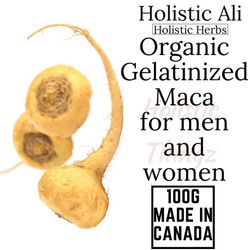 Organic Gelatinized Maca for Men and Women 100g
Organic Gelatinized Maca is an adaptogen made from natural maca root. This 100g-sized supplement contains only organic ingredients and is suitable for both men and women. Gelatinized Maca has been scientifically proven to boost energy levels, improve hormone balance and reproductive health, increase libido, and reduce stress levels.

** Gelatinization is a process of gently heating the maca to break down some of the hard to digest starches in the root. Gelatinized maca is typically a good way to introduce maca to your system as it tends to digest and assimilate more easily. Gelatinization does not affect the nutritional profile of the maca. 
For Women: Yellow Gelatinized Maca 
For Men: Red Gelatinized Maca 
Nothing else! No fillers! Non-GMO!
Vegan
1-2 months supply
Made in Canada
Please direct all questions or concerns to our amazing customer service team at Info@holisticthingz.com.
Please allow 48 hours for a reply.